Impodimo Game Lodge

Madikwe Game Reserve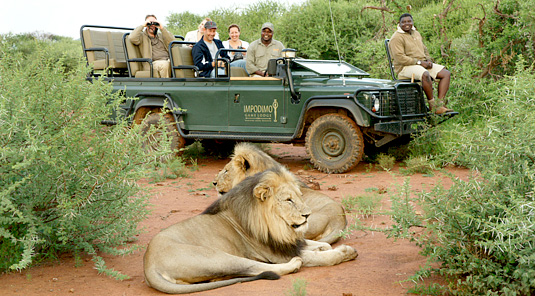 Impodimo Game Lodge Location
Impodimo Game Lodge is set along a rocky ridge commanding stunning vistas of the Madikwe Game Reserve. It is located at the source of a natural spring, which provides provides the lodge with elevated views as well as riverine serenity, Located in the malaria free Madikwe Game Reserve, 75 000 hectares of unique topography and breathtaking beauty, it is also the home to the big 5, wild dog, cheetah and a large variety of mammal and bird life.

Impodimo Game Lodge at a Glance:
Accommodation - Capacity - 16
The 8 luxury suites are air-conditioned and also feature fireplaces and private decks
Full en-suite facilities including spectacular vistas and outside showers
Mini bar fridges and hot beverage facilities
Elevated sun deck surrounds feature pool
Boma
Library
Curio shop
Wine cellar
Malaria free destination
A true african safari
Impodimo Game Lodge Accommodation
Carved from the hillside, eight glass fronted luxury chalets line a natural spring, each enjoying striking views either from within or from the outdoor shower. The lodge enjoys spectacular vistas extending as far as the eye can see, your choice may be to visit in summer and laze on the pool deck with a chilled chardonnay. Or maybe a winter safari - retire to the library with a cognac or stoke the fire in your suite, gaze out at the stars before drifting away with vivid images of unrestricted close encounters with Africa's big game.
Activities
Rise in the morning to an African dawn and enjoy an early morning game drive with your dedicated professional ranger. Relax as your ranger guides you through the bush on a custom made open Landrover, searching out the Big 5 or the smaller secrets of nature.

Set out on a foot safari with your armed ranger and learn the secrets of tracking African game or just enjoy the trees, birds and stunning scenery.

when the heat of the African sun has diminished and the shadows are longer, head out again on a sundowner safari, where you will stop to watch the sun set on this bushveld paradise and enjoy your favorite sundowner drink.

Once the sun has set and darkness descends, set off again for a night safari where the more nocturnal creatures now rule the bush.
Impodimo Game Lodge Wildlife
Lion, elephant, black and white rhino, buffalo, leopard - Big Five- also cheetah and wild dog - Magnificent seven.
Giraffe, zebra, warthog, baboon, monkey, hippo, crocodile, and a variety of antelope including kudu, impala, waterbuck, Springbok, Wildebeest, Eland, Blesbok, Tsessebe and Steenbok are regularly seen, along with a number of the more elusive or less common animals. With a bird population of over 250 different species. Bring your binoculars!
Access
Impodimo Game Lodge is just 3 1/2 hours drive from Johannesburg, or if you wish to fly in, Air transfers are available on a daily basis from Johannesburg International Airport (JIA) to and from Madikwe. Flights depart JIA at 12h00 and arrive at Madikwe air strip at 12h45.

The flight then departs Madikwe at 13h15 and arrives at JIA at 14h00. Luggage is limited to 20kg per person in soft bags.
Child policy
Sharing all the wonders that an African game reserve has with children is one of the pleasures that the Impodimo team treasures. The safety of children on safari is of paramount importance to our staff and for this reason we reserve the right to limit children's participation on safaris designed to bring you, the parent, close to big game. For this reason we have created the concept of the 'bush bumble' where we encourage parents to join their children on a game drive designed to focus on the little things.
Communication
The lodge has telephone, email and facsimile facilities.
Power Supply
The lodge is powered by ESCOM and power points are available in the rooms for chargers, electrical shavers and hairdryers, they are also linked to a generator in case of a Power failure.