Makanyane Safari Lodge

Madikwe Game Reserve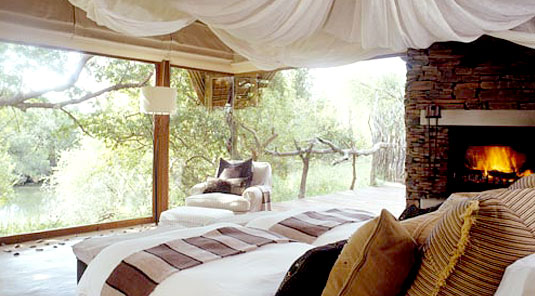 Makanyane Safari Lodge Location
Makanyane Safari Lodge is situated on private land within the magnificent 75,000 hectare malaria-free Madikwe Game Reserve - home to the Big 5 and a myriad of other animal and bird species. Makanyane Safari Lodge, which lies hidden in lush riverside forest, offers unforgettable wildlife experiences, exquisite accommodation and cuisine as well as outstanding personal service.
Makanyane Safari Lodge at a Glance:
Accommodation - Capacity - 16 Guests
8 Luxurious suites with bathrooms, indoor and outdoor showers and private decks per suite
Full range of guest amenities such as shampoo, conditioner, body lotions, etc
Insect repellent supplied in all bedrooms
Hair dryers
Bath robes
Telephones in each Suite
24 hour electricity
24 hour air-conditioning and heating
Open air boma where dinner is enjoyed under the stars
Licensed Bar
Wine cellar
Library
Bush gymnasium
Bush Spa
Heated filtered swimming pool
Guided Safari Walks
Guided Game Drives
Maximum of 8 guests per game drive vehicle
Star-View Sleep Out (Weather permitting)
Malari free destination
A true afarican safari
Located on the edge of a ravine, Makanyane Safari Lodge's dramatic main lodge overlooks a stream-filled waterhole shaded by a dense canopy of trees. Enormous ancient Leadwood trees in the lounge and the dining room support the sweeping thatch roof. The spacious lounge area has two rock fireplaces and opens out onto a wide wooden deck hanging over the ravine and waterhole below. On this wooden deck is the well stocked bar with its sweeping roof. The gracious dining room also opens onto the vast deck area, perfect for enjoying a meal under the trees while watching game drink below. The main lodge has a curio shop where you can browse for souvenirs, a library area and an extensive wine cellar.
Upstairs is the air-conditioned den with a viewing deck, the elevated position providing panoramic views of the grasslands of the Madikwe Game Reserve. Sweeping plains roll out towards the horizon, surrounded by a breathtaking skyline.
The heated, secluded swimming pool is the ideal place to soak up the African sun, while enjoying the idyllic scenery.
Close to the main lodge is the boma, an open air dining area enclosed by bush, reeds and trees. The boma is the perfect place to enjoy dinner next to a blazing fire. Sit back and enjoy the view out over the Marico River, the stars blinking through the canopy of leaves above you.
Not far from the main lodge, an isolated viewing deck stands on the edge of the plains. In this tranquil, tree shaded place, you can enjoy a quiet drink, while watching elephants stride through herds of waterbuck, zebra and impala grazing in these breathtaking grasslands. You may even see lion or cheetah moving through the grass, their vigilant stare searching for their next meal.
Accommodation
A stroll along the shady path winding through the riverine forest will bring you to your romantic and secluded suite. As in the main lodge, rich African textures abound, walls of natural rock and dried tree trunks merge with rough teak doors and contrast with the overhanging thatch.
The eight stunning glass walled bedroom suites allow uninterrupted spectacular views over the tranquil Marico River and the surrounding bush.
The open-fronted lounge with its private sundeck is the perfect place to relax and enjoy the sights and sounds of the bush.
The spectacular bathrooms have under-floor heating as well as indoor and outdoor showers. The wide, folding doors can be opened to allow the sounds and scents of the surrounding bush to join you in the luxurious freestanding bathtub. The understated luxury of your suite flawlessly compliments your untamed surroundings.
The suites have fireplaces, overhead fans and are fully air-conditioned and heated. The rooms also have a telephone, hot beverage making facilities, mini safe and a bar fridge. Bathrobes, hairdryers, insect repellent, body and sun lotion, soap as well as shampoo and conditioner are all provided.
Activities
Activities at Makanyane Safari Lodge revolve around relaxing your body and mind and experiencing the rich details of your surroundings. Relax by lounging at our heated swimming pool, strip away the stress of city living with a massage or aromatherapy on your private deck or in our bush spa, unwind by exercising in our gym, or simply catch up on your quiet time by selecting a book from our library and settling down in our den or on one of the outside decks to read.
To experience the vibrant bush life around you, allow yourself to be led through Madikwe's 75,000 hectare environment, either on foot or in an open vehicle.
Watch the wildlife, oblivious to your presence, from one of our bush hides overlooking a waterhole or facing plains that stretch to the horizon. You could even sleep out under the stars while nocturnal life continues around your secure, elevated deck.
Star-View Sleep Out
Feeling adventurous? Somehow reluctant to surrender to the luxury of your suite? Makanyane offers guests the ultimate nocturnal bush experience - sleeping out under Africa's stars surrounded by the sounds of the bush, unobstructed by walls and roofs.
To allow guests to experience the ambiance of the bush at night, beds will be made up on the upper deck of a hide hidden deep in the bush, next to a waterhole. Allow yourself to fall asleep seduced by the lullaby of roaring lions, crying jackals and laughing hyenas. (Weather permitting).
Gym and Spa
The well equipped gym and bush spa is just the place to work up an appetite, or to simply pamper yourself. Tucked away in the forest, this air-conditioned facility has all that you need for a gentle workout or more strenuous exercise. Alternatively, treat yourself to massage or aromatherapy from Makanyane's onsite masseuse.
Wildlife
Lion, elephant, black and white rhino, buffalo, leopard - Big Five- also cheetah and wild dog - Magnificent seven.
Giraffe, zebra, warthog, baboon, monkey, hippo, crocodile, and a variety of antelope including kudu, impala, waterbuck, Springbok, Wildebeest, Eland, Blesbok, Tsessebe and Steenbok are regularly seen, along with a number of the more elusive or less common animals. With a bird population of over 250 different species. Bring your binoculars!
Access
Madikwe Game Reserve is 50 minutes by air from Johannesburg. Driving time from Johannesburg is approximately 3.5 hours using the route via Sun City and 5 hours using the route via Rustenburg and Zeerust
Child policy
We regret that we are unable to accommodate children under 12 years unless the lodge is block booked by a group or a family. Extra beds cannot be provided in the suites.
Communication
The lodge has telephone, email and facsimile facilities.
Power Supply
The lodge is powered by ESCOM and power points are available in the rooms for chargers, electrical shavers and hairdryers, they are also linked to a generator in case of a Power failure. Electricity voltage is 220v.
Shop
The curio shop stocks bush wear and African artefacts as well as film and batteries.