Mateya Safari Lodge

Madikwe Game Reserve
Mateya Safari Lodge Location
Mateya Safari Lodge is designed for the discerning traveler, offering a graceful fusion of relaxed comfort in a beautiful setting. The lodge caters for a maximum of ten guests. As such, you are assured exclusivity, privacy and the very highest standards of personal care and attention at all times.
Nestled in the rocky outcrop of the Gabbro hills, the lodge, comprising dining, lounge, and relaxation areas, provides a high elevation, uninterrupted view of the reserve. The suites are arranged in a radial configuration around one of the hills, each with a private, rim-flow pool deck and natural window sill overlooking the waterhole and plains.

Mateya Safari Lodge at a Glance:
Accommodation - Capacity - 10 guests
5 Luxurious suites with bathrooms, indoor and outdoor showers, private decks and private plunge pools per suite
Emphasis at Mateya is on elegance
Full range of guest amenities such as shampoo, bath oil, body lotions, etc
Insect proof screening on all windows and sliding doors
Hair dryers
Bath robes
Insect repellent supplied in all bedrooms and on all vehicles
Maximum of 4 guests per game drive vehicle
Purified water
Swimming pool
Open air boma where dinner is enjoyed under the stars
International direct dial telephones in each bedroom - 24 hours
Internet and e-mail facilities
Facsimile
24 hour electricity
24 hour air-conditioning and heating
Room service
Safari bar including an international selection of beverages
Safari boutique and curio shop
Cardiovascular gymnasium
Spa and wellness centre
Malaria free destination
A true african safari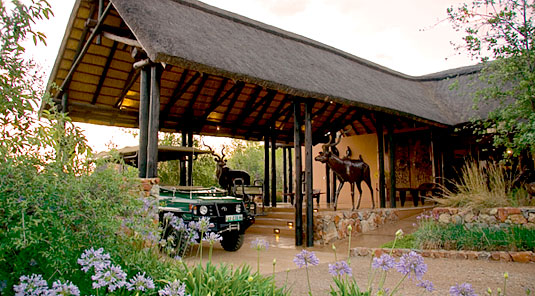 Mateya Safari Lodge Accommodation
The lodge consists of five individually designed luxury air-conditioned thatched suites. Each suite blends with its natural surroundings and offers uninterrupted views of the waterhole and plains. Guests can enjoy a balance of sophistication and comfort, in total privacy and harmony with nature, savouring the rare pleasure of their very own secluded slice of Africa. Each suite is en-suite with a secluded outdoor shower
Activities
Tackling the African bush in custom-built 4x4 game drive vehicles offers guests the thrill of getting close to game and tracking over vast distances. With a maximum of four guests per drive each guest is assured the personal care and attention of our rangers. The vehicles have easy wheelchair access.
The Xoi San (Bushmen) of the Kalahari were considered to be masters in the art of tracking. Specialist rangers and trackers at Mateya offer you a similar experience, opening the door onto a unique wildlife encounter. You will have the pleasure and thrill of viewing animals close up, as well as have a better understanding of how nature works in perfect harmony to sustain the delicate ecosystem that continues to thrive at Mateya.
Wildlife
Lion, elephant, black and white rhino, buffalo, leopard - Big Five- also cheetah and wild dog - Magnificent seven.
Giraffe, zebra, warthog, baboon, monkey, hippo, crocodile, and a variety of antelope including kudu, impala, waterbuck, Springbok, Wildebeest, Eland, Blesbok, Tsessebe and Steenbok are regularly seen, along with a number of the more elusive or less common animals. With a bird population of over 250 different species. Bring your binoculars!

Access
By car the distance to Mateya Safari Lodge from Johannesburg is 320km and from Sun City is 120km. Madikwe Air charter in conjunction with Federal Air offers a daily shuttle flight from Johannesburg to Madikwe airstrip. This flight departs Johannesburg at 11h15 and lands in the reserve at 12h15. On the day of your departure the flight departs the reserve at 12h30 and land at Johannesburg International at 13h30. A Mateya Safari Lodge representative will welcome you and transfer you to the Lodge. This is approx. 10 minutes drive.
Child Policy
No children under the age of sixteen (16) are permitted at Mateya Safari Lodge.
Library
Mateya Safari Lodge also houses an invaluably rare collection of works of African literature dating back to the turn of the 19th century that guests can enjoy in the quiet seclusion of the library
Communication
When business calls guests have the facility to host meetings in the unique Mateya Bush Boardroom. The Bush Boardroom is complete with personal computer and ISDN data facilities. The lodge has telephone, email and facsimile facilities.
Shop
A well stocked curio shop is located in Mateya Safari Lodge with items created by skilled craftsmen. Items that are embossed with the Mateya logo are also avaliable.